About Us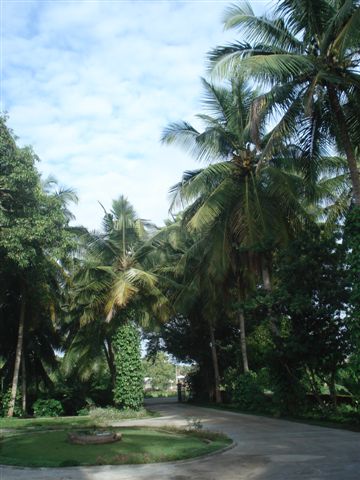 River View Farm Stay - Harakere is spread over 30 acres. Major crops cultivated in farm are Arecanut, Coconut, Pepper, Betel leaf & Coffee. The farm is managed by professional agriculturist Viswanatha, a national awardee, progressive innovative farmer, a globetrotter and keen Pranayama & Yoga practitioner. Viswanatha is on the management board of N.E.S College Shimoga and ex-board of regents for University of Agricultural science(UAS).
Sri.Viswanatha Sheshappa Gowda Aramanekeri (A.S.VISWANATHA), is born on 18-9-1941 in Shimoga, hails from a family of renowned agriculturist and freedom fighters.
Owing to strong inclination in the field of innovative agriculture, A.S.Viswanatha came to Harakere Village, near to Shimoga during 1966 and established himself at this village by purchasing an old Mango orchard of 8.25 ha. To divert himself fully in the field of agriculture, he at that time left his B.E (Civil) degree programme at Regional Engineering College, Surathakal.
Viswanatha with his firm background on agriculture removed all the old and unproductive Mango trees, laid out the land for lift irrigation, started cultivating paddy and sugarcane in the initial years. After about 10 years he switched over his experiments from paddy and sugarcane to Horticulture crops, mainly arecanut , pepper , banana etc. His approach is purely scientific and based on the ground realities of nutrient uptake by the plant and maintaining fields free from weeds.
His unstinted zeal in innovative agriculture, he has adopted several progressive practises which have resulted in significant increase in production of crops and at the same time sustaining the fertility and productivity of the soil.
Salient Achievements
Due to his continuous efforts in improving the land use system, he succeeded in following aspects.
1. Scientific Water Management :
Since land is located on the banks of Tunga River, for effective management of water in plantaion crops drip irrigation system was installed, besides, he motivated hundreds of farmers to adopt this system for efficient/economization water management.
2. Effective Weed Management :
Weeds compete with crop plants for nutrients, moisture, space and solar radiation, besides serving as hosts for several pests and disease causing organisms. Viswanatha is one of the pioneering farmers in the introduction and continuous use of chemical herbicides for effective weed control in his fields. This has helped in fertilizer efficiency,water efficiency and also reduction of the pests and disease incidence. A Ph.D. student from UAS, Bangalore studied the long term effect on use of herbicides – Atraizine, 2,4D and Glyphosate on the nutrient that there was no adverse effect on soil microflora and the nutrient status has improved to a greater extent because of control of weeds efficiently.
However, in the recent years, Viswanatha has switched over to intensive green manuring which add nutrients to soil and at the same time control other weeds.
3. Improvement in Jaggery prepartion :
Although the Jaggery preparation is practised in most of the sugarcane growing areas, lot of bagasses is required for boiling of sugarcane juice. Keeping his knowledge of engineering he modified the furnace designed by Karnataka State Council for Science and Technology by decreasing the number of pans from two to one and increasing the size of pans, resulting in the reduction of boiling time from 7 to 3 hours, and reducing fuel requirement from 2.25 to 1.76 kg. per kg of jaggery prepared.
4. Arecanut cultivation :
In view of better suitability of arecanut to this area and also owing to its high returns, he introduced several varieties of Arecanut – Thirthahalli local, Mangala, Sumangala, Srimanagala and Mohithnagar – for demonstration and to evaluate their performance. He could find that Thirthahalli local was the best for this area and he cultivated it on a large scale. Several innovative practices including intercropping, introduction of spineless Mimosa, drip irrigation, biofertilizers, appropriate plant protection measures, organic farming technology have resulted in very high production of arecanut in his farm.
5. Improvements to arecanut processing unit :
Processing of arecanut is labour intensive and fuel consuming process in arecanut cultivation. The traditional method of arecanut boiling in copper vessels requires huge quantity of fire wood and lot of time is consumed for boiling. Improved version of arecanut boiling unit was developed which required only 10 per cent of the fire wood and saved more than 50 per cent of the time. This is one of the important inventions made by Viswanatha which resulted in saving of precious forest land from illegal felling for arecanut boiling process.
Awards and Recognitions
Sri A.S.Viswanatha has been honoured with various prestigious awards and recognitions for his outstanding contributions in the field of agriculture, which has benefited many farmers.
State Level Award for Paddy cultivation – Given by Karnataka State Dept. of Agriculture.
Four awards in Sugarcane cultivation – Two state level and two All India Level.
Felicitation by Shimoga Zilla Panchayath during 1989.
National Innovative Farmer of the Country Award given by Indian Society of Extension Education, New Delhi, during 1991.
Karnataka Rajyothsava Award for outstanding contribution/achievement in agriculture – during 1991.
Felicitation by Karnataka Krishik Samaj, Bangalore during 1993.
Association with Professional organizations:
Member – Karnataka Sugarcane Advisory Committee, Government of Karnataka from 1978 to 1981.
Member – Karnataka State Seed Committee during 1985-1990.
Member – Shimoga Zilla Krishik Samaj during 1991 – 1996.
President – Karnataka Sugarcane Advisory Committee, Government of Karnataka from 1978 to 1981.
Life Member – Karnataka State Sugarcane Growers Association since 1973.
Life Member – Karnataka Sangha, Shimoga since 1990.
President – Shimoga district unit of Bahrathiya Kissan sangh, since 1993.
Vice-President – Karnataka State Unit of Bharathiya Kissan Sangh, since 1994.
Board of Director – National Education Society, Shimoga since 2003.
Vice-President – Karnataka Pradesh Krishik Samaj, during 1997-98.
Promoter and Founder President – Malnad Credit Co-operative Society, Shimoga during 1993-2001.
Member – HOPCOMS, Shimoga.
Member – Board of Regents, University of Agricultural Sciences, Bangalore from 2001 to 2003.
Life Member – NES
President – NES Shimoga, 2015 to 2017 (1st Term).
President – NES Shimoga, 2017 to present (2nd Term).
Acquiring Scientific Knowledge & Visit Abroad:
Sri.A.S.Viswanatha, as a progressive farmer, has travelled across the country and visited U.S.A., European Countries, Israel, Japan and South East Asian Countries for acquiring scientific knowledge in the field of agriculture. Besides, as a Member, Board of Regents, UAS, Bangalore he visited many State Agricultural Universities, National Institutes, ICAR center in the country.
Visited Europe & America for about two months during 1981.
Visited Japan and participated in EXPO-85 during 1985.
Visited Israel and participated in AGRITECH during 1996.
Visited U.K and Europe during 2002.
As a Member, Board of Regents,UAS(B), visited Greenwitch University, London and Reading University, U.K. studied the developments of various aspects related to the UAS(B).
As a Member, Board of Regents, UAS(B) and Member of Farm Development Committee, actively visited all the campuses and research stations and suggested several improvements especially in laying out irrigation channels, micro irrigation systems, which resulted In efficient use of water at the same time the farm receipts have increased to a great extent. The Seed Production programs of the UAS were also reviewed from time to time and suitable suggestions have been given for supply of quality seed material to the Seed Agencies and farming community.
Sri.Viswanatha was mainly responsible for starting of Masters Degree programme at college of agriculture in two disciplines and at Forestry College, Ponnampet in one discipline. He has a great zeal for improvements in Education, Research and Extension activities of UAS(B) through which the farming community can be benefited to a great extent.